by nitrolube on Feb.23, 2008, under Uncategorized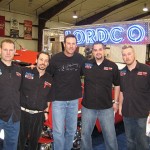 NitroLube participated in another successful annual Western Canada Classic Car Show at Tradex in Abbotsford, B. C.  that saw nearly 20,000 car fans come by the booth this weekend.
Chris Jacobs was a big hit showing up at the LORDCO Auto Parts booth to sign autographs.
If you didn't go you missed a good one. Next year will be even better.
:Abbotsford, auto, classic cars, Langley, tradeshow, Tradex