Nitro-2000™ F1+ "Dualizer™" Engine Formulation
Lordco Part #NIT30100
The Best Synthetic Oil For Engines and All Oil Dependent Machinery
The NEW……NITRO-2000 F1+ Racing Oil formulation is the ultimate lubricant friction modifier enhancer which takes normal lubrication a step further.
Our new "Dualizer™" molecular formulation with it's semi permeable membrane not only has superior shear film strength but resists extreme pressure and excessive temperatures.
It's Nano technology structure has a 2 stage activation impact on the racing engines ability to assist in heat reduction, oil strength and helps impregnate the hot metal frictional surfaces metallurgically reducing the co-efficient of friction.
HOW FRICTION MODIFIER WORKS
HOW GAS ADDITIVES WORK
The NITRO-2000 F1+ Dualizer is ….. The Racing edge.
NitroLube NITRO-2000 F1+ reduces friction, heat, and wear, and provides immediate start-up lubrication. Maximizes the life and performance of your engine and oil dependent machines and is fuel and energy efficient. Even with a total loss of oil your engine will remain protected for a substantial amount of miles. It tends to rejuvenate the seals and gaskets. It keeps them firm and pliable. It keeps the gaskets and seals from drying out and cracking.
The success of conventional lubricating oils is predicated upon maintaining a high film strength oil barrier between two surfaces moving relative to each other. Resistance to the movement of these surfaces is defined as friction, which can be either sliding or rolling or which can be caused by the shearing action of a lubricant attempting to separate the two surfaces. Hydrodynamic, Hydrostatic, and Boundary lubrication typically occur in some combination in virtually all mechanisms which require lubrication and most commercial lubricants are reasonably capable of doing the job for which they are intended.
NITRO-2000 Exclusive Advantages: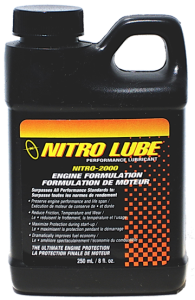 Its unusual bonding effect due to its positive ionic charge. This means that the NITRO-2000 oil molecule will not easily "drain away" when the engine or other machine is stopped. Instead, it will cling to the surfaces and greatly reduce the "dry start" wear phenomena.
Its ability to impregnate the surface crystal structure, which cannot then be destroyed without its immediate automatic replacement.
The surprisingly lower Friction values, which remain permanently on the surfaces, resulting in reduced Friction, Temperature and Wear. It's constant re-occurring, re-hardening and re-healing effect on friction worn surfaces as long as NITRO-2000 is present to keep re-treating the surfaces.
Compatible with all brands of motor oil, including synthetics…the ultimate enhancer for your Oil.
DOES NOT contain plastic particles, PTFE resins (Teflon), graphite, molybdenum disulphide, or any other solids, which may cause harmful buildup.
Directions for Best Performance:
Engines: Add 10% of total oil volume on each oil change.
Hydraulic Rams – Pumps: Add 1 oz. per liter or quart (30ml per litre) or 3% of total volume.
Compressors (Reciprocal): Add 3 oz. per liter or quart (90ml per litre).
Cooling Systems: Add 1% of total volume.
Applications

All internal combustion engines.
Gas and diesel equipment.
Automatic and manual transmissions.
Differentials and gear boxes.
Bearings and bearing journals.
Compressors (reciprocal), and pumps.
Cooling systems.
Machine tools.
Personal vehicles.
Big rig truck engines.
Commercial truck fleets.
Industrial stationary engines.
Bus engines.
Marine engines.
Construction and Mining equipment.
Off road vehicles.
Recreational Vehicles.

Benefits

Maximizes engine performance.
Reduces friction, heat, and wear.
Contributes to increased fuel economy.
Provides immediate start-up lubrication.
Helps maintain maximum compressions and horsepower.
Helps to protect the engine in the event of oil or coolant loss.
Helps to reduce oil consumption.
Reduces noise pollution.
Compatible with all brands of oil including synthetics.
Reduce downtime and breakdowns.
Our Guarantee
NitroLube NITRO-2000 Lubricant:
is safe and effective
does NOT alter the SAE/Viscosity rating of the base lubricant
does NOT contain Teflon, silicone, graphite, molybdenum, or any other harmful chemicals
has NO corrosive effect on metal
does NOT void warranties
enhances performance
enhances fuel economy