Go-Green BEST FULL SYNTHETIC Oil
Bio-Synthetic Fleet Engine Oil, Formulated for hotter running CNG – Compressed Natural Gas vehicles & LNG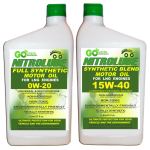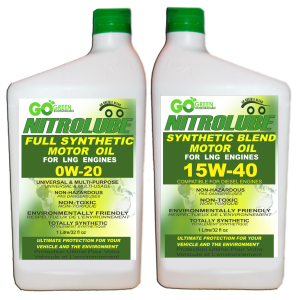 – Liquefied Natural Gas in OW20 / 5W20 / 5W/30 / 10W30 / 5W40 / & 15W40. NitroLube Go-Green is a superior performance Oil that can be used for all LNG engines including Semi-Trucks…eg. Cummins, Caterpillar, Detroit and other Heavy Duty motors being EGR and DEF equipped. This state-of-art Technology can be used in Agricultural, Logging, Industrial Engines and other applications. The product is API CERTIFIED  and approved by major OEM engine manufacturers and provides a significant performance upgrade to API categories.
This new Scientifically Advanced Biodegradable Oil is in the forefront for the best synthetic Green Oil.
WE MAKE YOU GREEN
Reduces hydrocarbons by 90% STOPS SMOKE in all Gas or Diesel Motors or Engines ELIMINATES SMOKE in 2 & 4cycle engines WE CAN HELP TO REDUCE EMISSIONS and KEEP OUR PLANET GREEN
WE CAN DO IT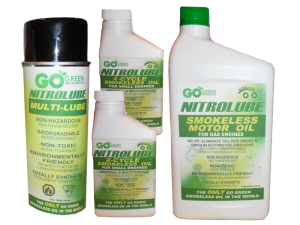 New Go-Green products
Gas & Diesel Engine Oil
Lubricant spray
Hydraulic Oil
Chain Saw Oil
Small Engine Oil
Marine Oil
Gear Oil.
NOW AVAILABLE AT LORDCO  
"What are they saying"
To NitroLube:  I would like to let you know that my wife and I are very environmental conscientious about polluting our environment. I have been in the construction field for over 40 years and as a home inspector I make sure everything works just right. I got some of your new NitroLube Smokeless Oil and tested it in my lawn mower, it needed something because it just smoked and we were planning of buying a new one. When your company rep told me what your new smokeless oil does I was very skeptical since I have tried other oils with NO luck. As you can see by the picture I sent you the smoke was unbearable and cutting the lawn was no fun. I removed the old oil and put in your NitroLube Smokeless oil. Was I ever surprised when we started it up and within 10 seconds after the old oil burnt off…. the machine was smoke free and we also noticed that their was no emissions. I had to tell you since I did not believe it. I will be using it in all my other 2 and 4 cycle engines, weed eater, chainsaw and especially my fishing boat motor. I will be passing on your name to all my friends. This is the best synthetic oil I have ever used.

BEFORE

Thank you for helping to reduce our carbon footprint and making our air much cleaner to breath. Pierre Proulx – Licence #47278 Omnilateral Home Inspections Langley, B.C. Canada 604.309.1499 www.omnilateral-hpi.com

AFTER