Archive for January, 2015
by nitrolube on Jan.09, 2015, under Uncategorized
BAJA1000 Canadian Team. NitroLube would like to congratulate the YOLO Race Team on a successful 2014 Race season on the BAJA Race circuit. The Team competed in a number of BAJA events in 2014 with some great wins. All the Best in 2015 where once again NitroLube will be on board for all the race lubricants. Thank you for the Testimonial which is posted on the website.
Leave a Comment
more...
by nitrolube on Jan.02, 2015, under Racing News
NOV  8, 2014
2014 NATIONAL NITRO-BIKE CHAMPIONSHIPS…..NiitroLube extends their Congratulations to the Ray Price Racing Team ( www.rayprice.com ) from Raleigh, North Carolina on their successful racing season and winning the National Title for the racing crown for 2014 at Las Vegas as the NHRA HARLEY-DAVIDSON TOP FUEL CHAMPION .  The teams rider Tommy Grimes is one of the top riders in the world and proved it this year with a record Run of 6.17 sec at 234.66 MPH. Nitrolube is proud to be an official product provider to the team.   Read More…. http://www.rayprice-hd.com/default.asp?page=racing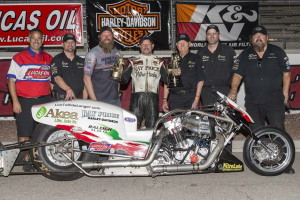 Leave a Comment
:bike, las vegas, lubricant, racing, record, team
more...