Archive for June, 2012
by nitrolube on Jun.07, 2012, under Racing News
Sunday, June 3, 2012
44th Tecate SCORE Baja 500 Results
Congratulations go out to the YOLO Racing Team for coming in 3rd 15 minutes behind 2nd place completing the 44th Annual Tecate SCORE Baja 500.
Round 4 of five-race 2012 SCORE Desert Series
Held on June 2-3—at Ensenada, Baja California, Mexico
The race was 450 miles/750km  with Total Starters at 259: Total Finishers: 182 From (34 U.S. States, 15 from other countries)
CLASS 5-1600 (1600cc VW Baja Bugs)—1. Clyde Stacy, Bristol, Va./Thomas Fernandez/Ramon Fernandez, Ensenada, Mexico, 15:37:04 (28.81 mph); 2. Gustavo Avina, Ensenada, Mexico/Falsas Diaz, San Diego, 16:14:43; ….3. Erich Reisen/Ross Burden, Canada, 16:29:05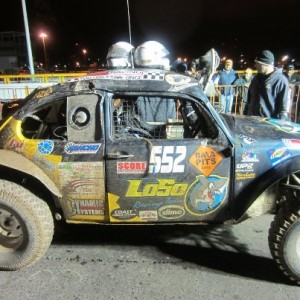 Leave a Comment
:Baja 1000, California, Canadian, racing, team, Tecate, VW, Yolo
more...