Archive for September, 2011
by nitrolube on Sep.23, 2011, under Racing News, Uncategorized
Winnipeg, Manitoba (Sept 14 2011) There had to be a few spectators at Gimli Dragway's September long weekend show who came just because they were just plain curious. They were there to see this PT Cruiser that was promoted as a quarter mile wheelstander. There have been school buses, trucks and even a tank that have "cat-walked" drag strip asphalt for years, right up to present day. However – A PT Cruiser? What a strange concept!
Right from when Chrysler launched the 5-door hatchback for the 2000 model year to its final production on July 9, 2010; the "personal transport" was identified as the perfect economy family car. Who would ever believe that it could be a drag strip show star? Well "Nitro Mike" Kunz made a whole bunch of believers as he launched "Walking Tall" to the crowd's delight!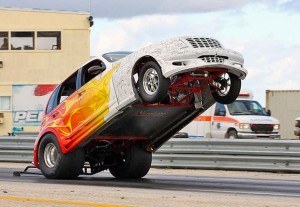 Let me tell you; this isn't the little hatchback grocery getter that you are used to seeing at the shopping centre. To start, the engine is stuffed into the rear compartment and is radically morphed from the original 2.4 litre gas saver to a blown Chrysler 448 c.i, methanol alcohol gulping monster. Kunz can pilot this crowd pleaser to 130 mph in 10.4 seconds on a good day. Even in spite of significant crosswinds, he stood her on her back wheels for the entire Gimli Dragway quarter mile and then wheelied back, burping flames to the fans applause!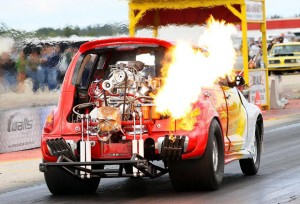 Looking around the car, the full tube chassis, 2004 PT Cruiser has a wheelbase of 117 inches. Power comes from a Chrysler 448 with Edelbrock aluminum heads and a 10-71 BDS blower. The mill is matched up with a modified 727 Chrysler 3-speed air shift tranny and a Ford 9 inch rear end. I don't think that the original Plymouth designers and engineers had this in mind when pencil went to paper.
The flamed paint job speaks volumes for the blazing entertainment that Kunz delivers, but the hood highlights his pit pizzazz to the max! The entire plain white front end is adorned with virtually hundreds of signatures and good wishes. Most are from kids that have visited his pit area. Mike and better half, Wanda are very receptive hosts with warm greetings to fans of all ages that drop by. No worries about "touching" the car from this couple; the Sharpie is available to all. The only problem is that they are running out of space.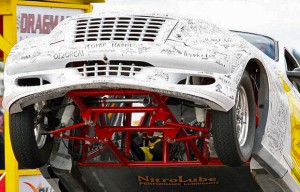 Out on the track, "Nitro Mike" has plenty of play with the fans flair too. With a kid-like gleam in his eye, Kunz related a story to me that took place at a drag strip that had grandstands on just one side of the track. Understandably, many spectators wonder how he knows where he is going when the nose of the car is so high in the air. Taking full advantage of the one-sided layout on his return from a full wheel stand run, Mike climbed out of the PT and waved to the crowd as usual. This time, he wore dark glasses, carried a white cane – and waved to the wrong side! Needless to say, the fans roared! Now, Mike asked me to clarify that he had no intent to offend anyone. How could any person with a healthy sense of humour, not appreciate hilarious antics like this?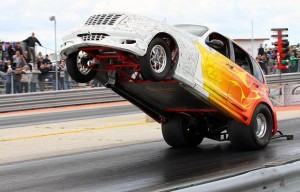 The welder / fabricator by day from Summerland, British Columbia has maintained a passion for going fast for 30 years. He has owned and raced stuff from mud-boggers to top alcohol rails. He has held an NHRA exhibition wheel stander license since 2008. Combine that experience with dedication to entertain and a zany, radical ride; you get a pure unadulterated show that brings race enthusiasts to their feet. Nitro Mike's style and crowd charisma is what puts fans in the grandstands. This is the kind of exhibition extravaganza that Canadian drag racing needs to keep the sport thrilling and continuously growing, full throttle into the future. No doubt, Manitoba fans are looking forward to his return with "Walking Tall" in the 2012 season!
Photo Credit: Don Yewish
Dale Hickey
Canadian Drag Racer Magazine
Leave a Comment
:auto, cruiser, dragway, gimli, nitro mike, racing
more...